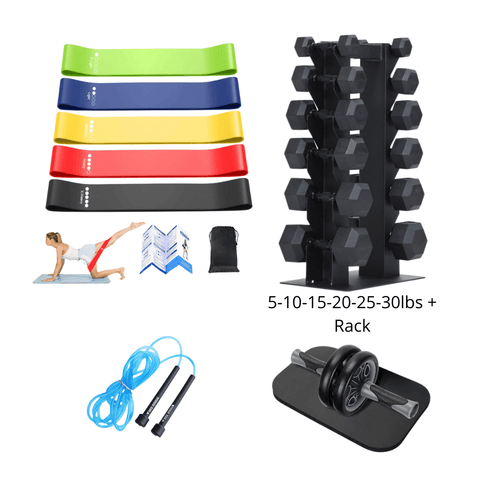 Vice Versus
BUNDLE 5-30lbs Hex Dumbbells & stability set
BUNDLE: Vice-Versus 5-30lbs Rubber Hex Dumbbell Set & Stability set which includes: 5 loop bands, Ab mat + ab roller and a Jump rope!
The Bundle:
5-30lbs set of Rubber Hex Dumbbells

One PAIR of each size in 5lb increments = 

2 x 5lbs, 2 x 10lbs, 2 x 15lbs, 2 x 20lbs, 2 x 25lbs, 2 x 30lbs

One of the smoothest PVC Jump Rope.

A Deluxe Ab Wheel + ab mat

A set of 5 Loop bands + transport bag + exercises guide

*you can add OUR dumbbells rack as an option for the bundle (+149$)*
The Dumbbell:
Heavy-duty Rubber Encased Heads: minimize noise, floor damage, and wear and tear on the dumbbells.
No Toxic Smell 
Premium ergo Handles

Available in sizes from 5 Lb. to 100 Lbs.
These dumbbells feature a heavily contoured ergonomic chrome handle with aggressive knurling for a tight grip.  The premium coating increases durability, protects flooring and equipment, diminishes noise and is easy to clean.  The attractive chrome handle and jet-black dumbbell heads compliment most work out spaces and the hexagonal shape prevents unwanted rolling.