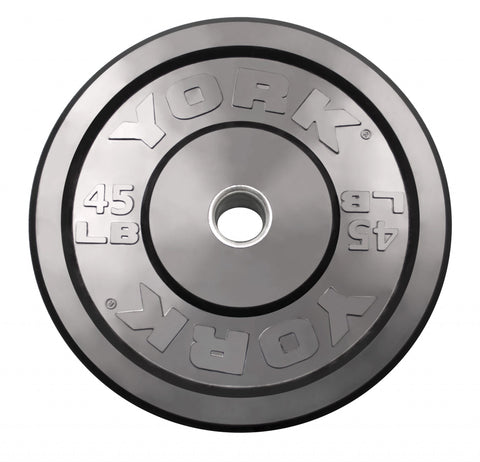 York
YORK Rubber Training Bumper Plate
SOLD INDIVIDUALLY AND BACK IN STOCK!
Weights are sold individually - NOT sold in pairs.
 Unmatched Quality - Our premium virgin rubber bumpers were engineered and tested to take a beating and are molded using a carefully formulated virgin rubber compound that offers unmatched durability allowing us to offer an industry leading warranty. To help maintain their form and extend longevity, we've increased the rubber durometer (hardness) of the 10 and 15 lb. bumpers making them more resilient than the industry standard. This added hardness eliminates the "taco" effect seen with recycled or low-quality bumpers. Our proprietary design and manufacturing process utilizes a heavy gauge steel insert that won't loosen or come out. And accuracy is kept within +/- 1% of the stated weight.
Rubber training bumpers plates are versatile in their ability to be utilized for a variety of exercises, including Olympic Lifts.

These plates not only help reduce noise, they also help protect equipment and flooring.

Each solid rubber bumper plate has a 2" reinforced center steel sleeve to allow easy bar loading and unloading.
Weight

10 Lb

15 Lb

25 Lb

35 Lb

45 Lb

 
 

Diameter:

17 7/16"

17 7/16"

17 ¾"

17 ¾"

17 ¾"

Thickness:

1"

1 5/16"

2 ⅛"

2 ¾"

3 ½"