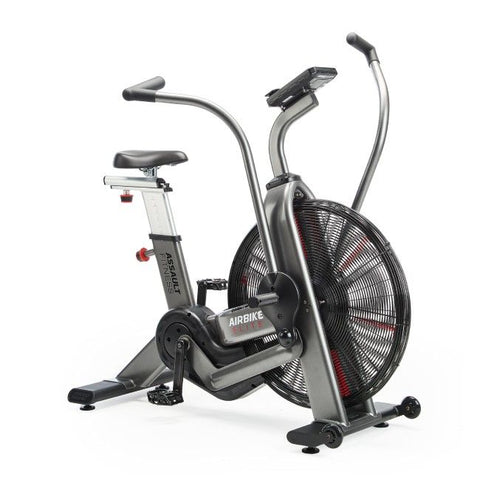 Assault Fitness
Assault Air Bike Elite
Commercial Durability
This bike has been designed to give you the closest to a gym or box experience as you can have from home. With a massive steel frame, solid steel cranks, corrosion resistance, and a solid aluminum seat post and slider, there is no question that this bike will go for years. Designed for strength, durability, and hardcore use, you will find yourself coming back day after day for more burn. In fact, we say this bike doesn't just bring on the burn 
Ideal for Interval Training
Because the Assault team knows firsthand the incredible effectiveness of interval training, the Assault Elite was created with interval training in mind. The Elite features increased resistance when speed is increased along with the option for upper and lower body engagement or isolation. Finally, we've equipped this bike with the ability to pedal forward or backward for workout variation.
Elite Extras
The Assault Elite has been outfitted with an exceptionally comfortable large seat to offer support on a lengthier ride. An integrated removable windscreen is easily used or removed for a breezier or less breezy ride.
LCD Display with Performance Tracking
Taking the air bike display into the future, this LCD display allows users to connect with Bluetooth and ANT. Monitoring your heart rate is straightforward, and you can quickly connect your mobile device for data tracking. Classic time, distance, and calorie goal programs are available, but especially exciting are the HIIT interval training programs available on the console.
Frame

| | | |
| --- | --- | --- |
| LCD: | Hi Contrast w/Improved Readability | |
| Comp Mode: | Yes | |
| Rest and Work LEDs: | Yes | |
| Bluetooth: | Yes | |
 

Components

| | | |
| --- | --- | --- |
| Seat: | Sport Seat Elite | |
| Pedals: | All-metal Design | |
| Handlebars: | Single Hand position | |
| Wind Shield: | Integrated | |
| Cladding: | Plastic Shrouds | |
| Seat Post: | Aluminum | |
| Frame | Enhanced commercial | |
| Max User Weight: | 350 lbs | |
 

 

| | | | | |
| --- | --- | --- | --- | --- |
| Frame: | | | 5-year Frame | |
| Parts: | | | 3-year Non-Wear Parts | |
| Labor: | | | 1-year Labor | |