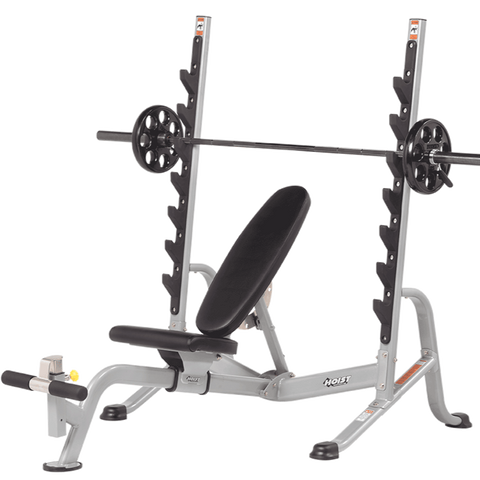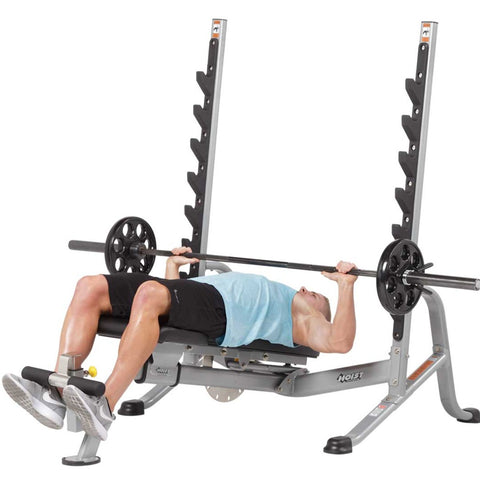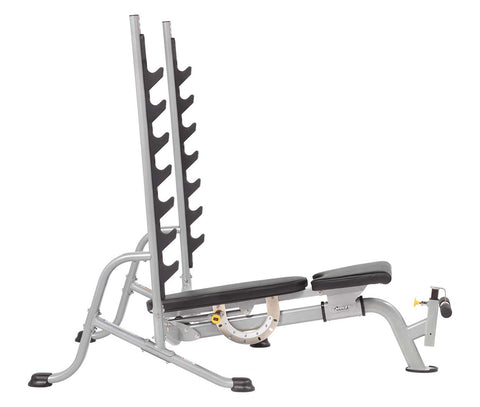 Hoist
Hoist HF-5170 7 Position Olympic Bench
Your sessions developed safely
The semi-professional Hoist Fitness HF-5170 multi-position Olympic bench press allows recumbent, tilted or safe bench press sessions, thanks to its high-strength and high-weight structure, for semi-professional or intensive home use . The high-density backrest and seat are very comfortable, even under heavy loads.
The different angle settings are made simply and quickly and allow you to go from declining to inclined at a glance. Its maximum load of 272 kg makes this model a stable and robust bench to exercise safely. The polyurethane coated rack protects your bar and ensures quieter use.
The Biceps HF-OPT-4000-2 and Leg Extension / Curl HF-OPT4000-1 modules – available as accessories – are installed in place of the footrest and offer new training opportunities. Thus equipped the bench HF-5170 is very complete. The finish, the details and the care taken in the production, the anthracite gray / platinum gray chassis give it an upscale look worthy of the Californian brand.
FEATURES
Sturdy, stationary frame design
Upgraded racks with polyurethane covers to eliminate noise and protect the bar and machine
Upgraded rack-out tiers with polyurethane covers to eliminate noise and protect the bar and machine
Upgraded modern frame with oval tubing
Non-metallic foot covers to protect flooring
7 adjustable angle positions from -10 to 75 to accommodate flat, incline and decline bench or shoulder exercises
ACCESSORIES & OPTIONS
Rack Out Tier (1 pair)
Leg Extension/Leg Curl Attachment
Preacher Curl Attachment
Accessory Storage Stand
SPECS
Product Width: 50.75″ (129 cm)
Product Height: 70.00" (178 cm)
Product Length: 80.25″ (204 cm)
Machine Weight: 147 lbs. (67 kg)
Maximum Weight: 600 lbs (272 kg)