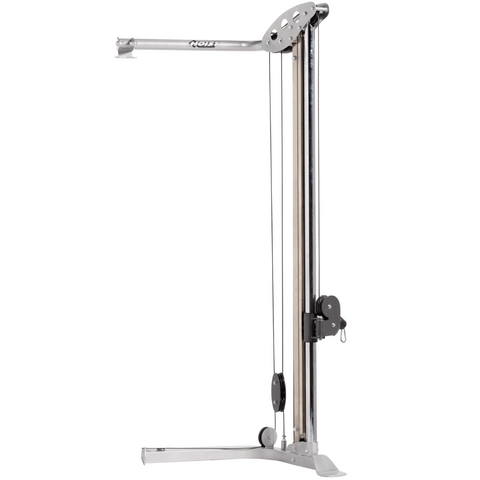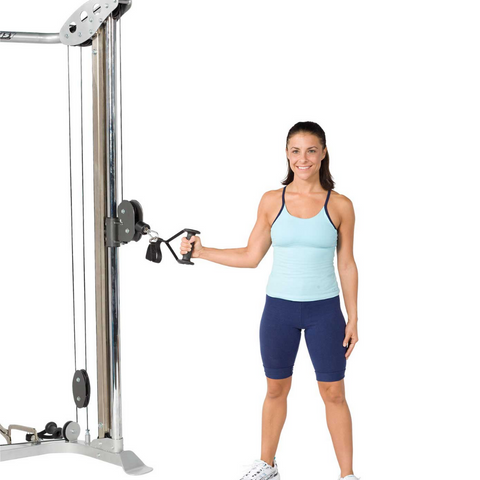 Hoist
Hoist HI-LO Pulley Option (For V Elite Home Gym)
The HI-LO Pulley is an option that is intended for use with our HOIST Fitness V Elite home gym. THIS IS NOT A FULL GYM. Home gyms sold separately. 
Multiply the possibilities
The Hoist Home Gym V Elite HI-LO Universal Pulley option is an essential option to increase the training possibilities, especially for specific exercises or specific to a specific sport activity (Swing, Punch, …) and for functional rehabilitation.
The 35 adjustment points allow you to work more precisely a multitude of movement. Not only the usual exercises will be performed more comfortably still (at ground level for the adductors, abductors, glutes, biceps curl, etc …, on the intermediate positions for the shoulders, the pecs, etc …, or at the top for triceps), but also, you can perform very specific movements to your favorite sport, or perform more effective rehabilitation.
The pulley support is pivotally mounted and the pulleys are large in diameter and wide. This allows you to perform movements of very large amplitude without being disturbed and while ensuring the longevity of the cables.
MAIN CHARACTERISTICS
Optional module for V-Select or V-Elite, can not work alone
35 set points over the entire height of the column
One-hand adjustment thanks to the integrated lock on the handle
Built-in counterweight for easy height adjustment
Pulleys mounted on ball bearings
Articulations mounted on bronze ring
Large output pulleys for smooth movement
Swivel pulley support for great freedom of movement in the exercise
FEATURES
The Hoist Hi-Lo Pulley Option has 35 separate pulley positions designed to perform a vast array of upper and lower body exercises.
To make it easy to move from one exercise to another, the counter balance pulley combined with a unique integrated adjuster system provides smooth and easy one-handed adjustments.
SPECS
Product Width: 61.50″ (156 cm)
Product Height: 83.75″ (213 cm)
Product Length: 71.75″ (182 cm)
Machine Weight: 544 lbs. (247 kg)