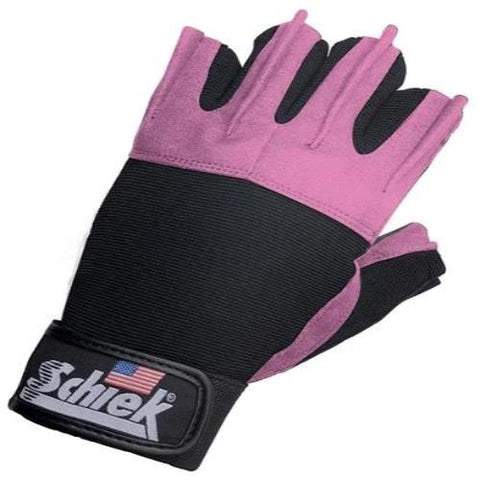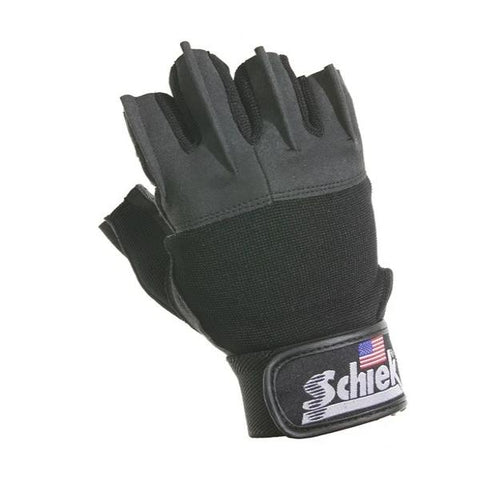 Schiek
Schiek Women's Lifting Gloves 520
Schiek Sports Women's Gel Grip Exercise Gloves 520 
The Schiek 520 Platinum Series Exercise Gloves for women offer protection against painful blisters and callouses during group fitness classes or weight lifting programs that utilize dumbbells, barbells, kettlebells and cable attachments.
For a more secure grip, the non-slip palm increases the ability to prolong the grip for added reps, especially when hands are sweaty, while the gel padding in the palm and thumb help to evenly distribute the weight of bars and handles therefore removing pinch points while performing pressing movements.
The 3/4 finger length adds just a bit more protection than Schiek 1/2 finger gloves with just about the same degree of dexterity.
The Velcro closure tab provides a secure and snug fit throughout your workout with quick on and off application.
Removal of the 520 glove after a workout is easy thanks to the Patented finger fins. Just grab the fin and fingers slide right out! Choose between black and pink color options.
Men or Women: The 520 glove is specifically for women

Warranty: One year warranty against manufacturer defects

Back Material: Breathable mesh to help keep hands cooler
Size:
Black Sizes: XS (6"-7"), S (7"-8"), M (8"-9") and L (9"-10")
Pink Sizes: XS (6"-7"), S (7"-8") and Small/Medium (7.5"-8.5")