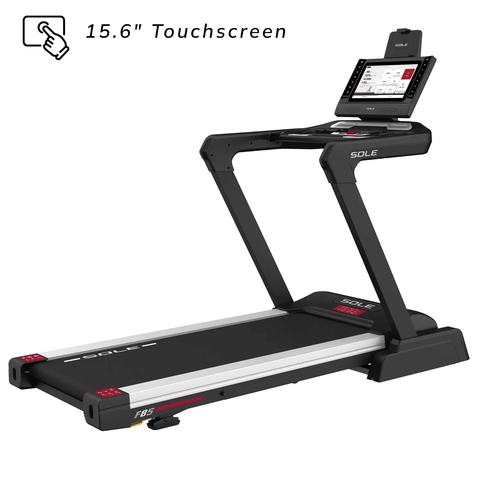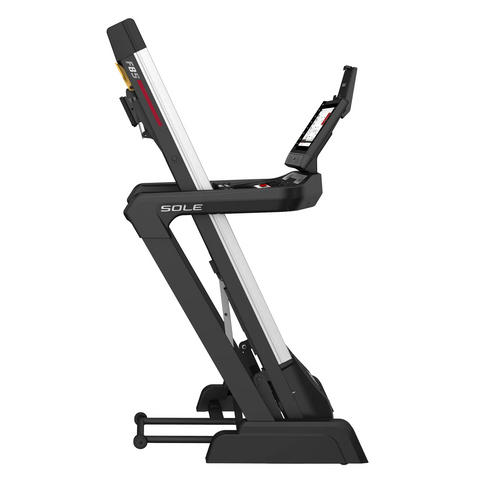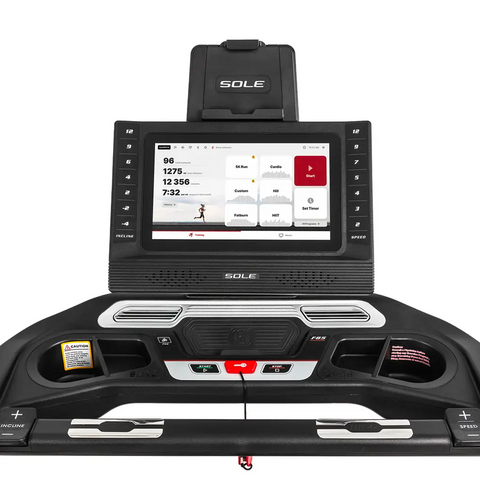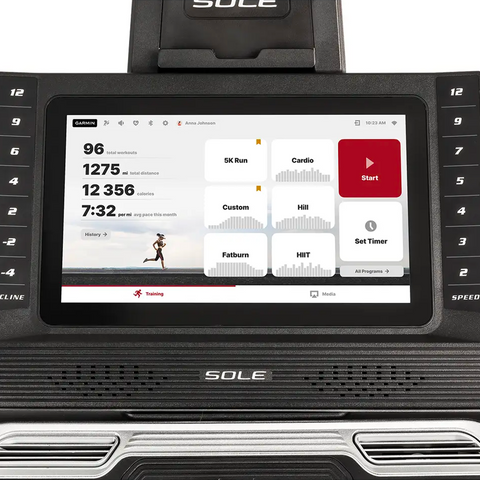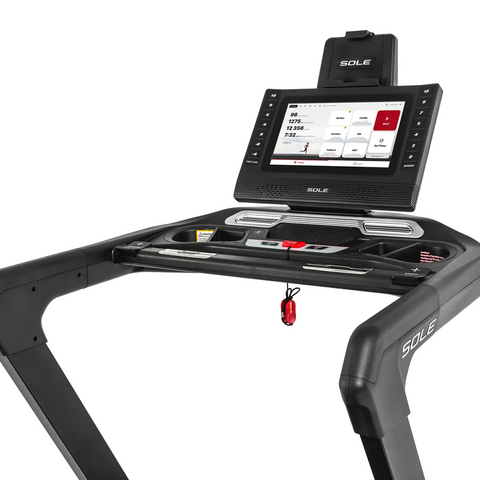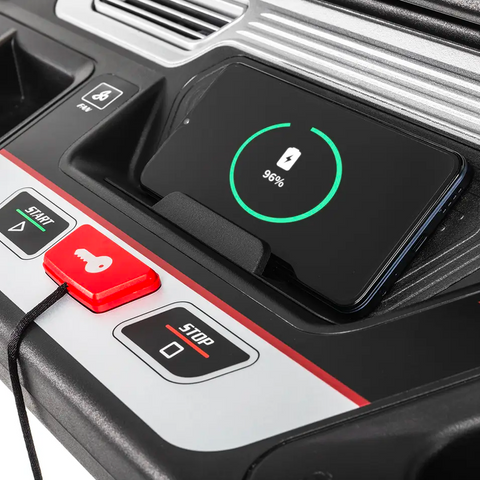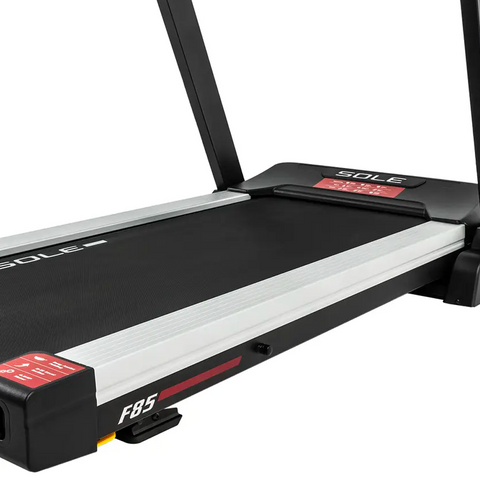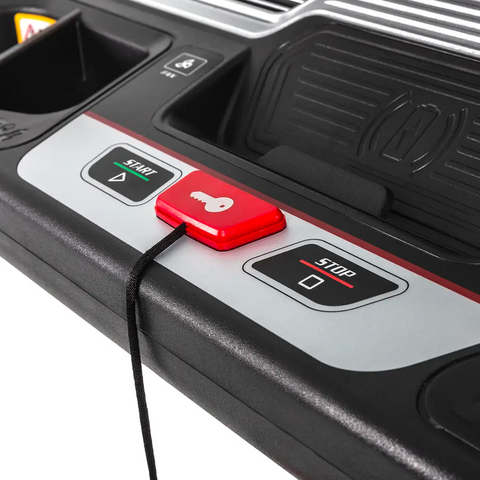 Sole Fitness
Sole F85 Treadmill (NEW 2023 MODEL)
Unleash boundless potential with the SOLE F85 Treadmill: Beautifully engineered with precision and performance, the SOLE F85 folding treadmill stands as a paragon of technology and exquisite design.
Step onto the spacious 22" x 60" running deck, an artful creation meticulously designed for unparalleled comfort and peak performance. The F85 with features an innovative Z-Frame design, adding style and function. The hushed yet potent 4.0 horsepower motor propels your workout experience with great speed, reaching up to 12 mph (in 0.1 increments.) Meanwhile, the large, captivating 15.6" touchscreen console display becomes your guide through an array of 30 dynamic programs to keep you moving. The large 15.6" touchscreen display also includes 7 preset apps such as YouTube and Netflix but also includes screen mirroring capabilities for Apple and Android smart devices for your streaming convenience.
Elevate your workouts through the dynamic incline system, featuring 15 levels of incline (at 1.0 increments), 6 levels of decline (at 1.0 increments), strategically challenging each stride. Seamlessly adjust speed, incline and decline using 14 intuitive quick-touch buttons, customizing every facet of your exercise. While the integrated hand pulse heart rate sensors provide real-time progress insights, the option to connect with compatible heart rate monitors adds an extra layer of engagement. Ignite your fitness journey with Bluetooth FTMS capabilities, linking seamlessly to the SOLE+ App and a range of prominent third-party fitness apps.
Embrace the convenience of the built-in USB charger, relish the cooling breeze from the integrated fan, and immerse yourself in the auditory realm with the Bluetooth speakers. The F85's unwavering durability is bolstered by a lifetime frame and motor warranty, supplemented by a comprehensive 3-year deck and parts warranty as well as a dedicated 1-year labour support.
With a sturdy steel-frame construction that accommodates a maximum user weight of 375 lbs, the SOLE F85 beckons fitness enthusiasts of all stripes. Unfold a future of fitness where innovation converges with endurance, propelling you closer to your wellness aspirations with every stride.
Manufacturer's Model Number:16008300850
Features on the new F80:
SOLE Treadmill Technology: The engineering team at SOLE strives to exceed consumer expectations. They consistently create quiet, stable, and durably made treadmills by emphasizing quality design. Loaded with comfort features

Large 15.6″ Touchscreen Console Display: Immerse yourself in your workout experience by interacting with the large 15.6″ Touchscreen console display! Follow your favourite fitness influencers on YouTube or catch up on your favourite Netflix series while working out. You can also screen mirror your compatible Apple or Android smart device to the F85.

Bluetooth Technology: Seamlessly listen to music through the Bluetooth 3.0 Audio Speakers from any enabled smart device.

Folding Deck Design – Easy Assist: SOLE Fitness is proud to offer the best folding treadmill design on the market. Our patented all-gear rack & pinion system with Safety Lock Deck design secures the deck while the treadmill is upright. 

Cushion Flex Whisper Deck: The unique design of SOLE treadmill decks provides users with a comfortable and quiet workout and reduces impact by up to 40% compared to running on asphalt.

Precision Welded Frame: The durability of SOLE products begins with a strong frame capable of handling multiple users of varying weights and heights. The precise welds and quality steel of SOLE treadmill frames ensure strength, stability, and durability.

Message Board: SOLE proudly offers integrated message boards on most of our treadmill models. An alphanumeric text center sends scrolling messages to the user as guidance through the details of each workout.

High Torque Motors with Flywheels: All SOLE treadmills feature the heaviest-duty motors and chassis in their class. Industrial quality motors are used with large diameter, all-steel, zinc-coated, and balanced flywheels for a vibration-free and secure running/walking surface. The flywheel extends the motor's life by allowing it to run cooler and with a lower amperage draw, while its heavier weight lends to the same fluid motion found on commercial-grade treadmills.

Rollers: SOLE treadmills feature large rollers meaning a larger contact surface with the belt contributing to even movement and longer roller and belt life.

Belts: Comprised of rubber for durability, PVC to prevent over-stretching, and nylon providing a smooth, static-free surface to glide over the deck and rollers, SOLE treadmill belts are built to last and keep you moving worry-free along the path to your workout goals.

Other Features:
22″ x 60″ folding cushion flex whisper deck with 2-ply belt and large 2.75″ tapered rollers
4.0 horsepower motor
0.5 – 12 mph and 15 levels of incline, 6 levels of decline
15.6″ Large Touchscreen LCD Console Display
30 program options with 14 direct access speed and power incline buttons
Machine Dimensions:
| | |
| --- | --- |
| Footprint (in.): | 82.5″ L x 38″ W x 66″ H |
| Folded Dimensions (in.): | 44″ L x 38″ W x 71.5″ H |
| Item Weight (lbs.): | 293.7 lbs. |
| User Weight Capacity (lbs.): | 375 lbs. |
| Running Surface: | 22″ x 60″ |
| Rollers: | 2.75″ |
| Carton Dimensions: | 86″ L x 39″ W x 15″ H |
| Shipping Weight (lbs.): | 322.3 lbs. |
Controls & Features:
| | |
| --- | --- |
| Motor Info: | 4.0 HP |
| Speed: | 0.5 – 12 mph (in 0.1 increments) |
| Incline: | -6 to 15 levels (in 1.0 increments) |
| Heart Rate Monitoring: | Hand pulse grips, chest strap compatible (Bluetooth & 5kHz) |
| Chest Strap Included: | No |
| Cooling Fan: | Yes |
| Standard Programs: | 16 |
| Custom Programs: | 12 |
| Heart Rate Programs: | 2 |
| Wireless USB Charging: | Yes |
| Bluetooth compatibility: | Yes |
| Bluetooth Speakers: | Yes |
| Console Display: | 15.6″ Touchscreen LCD |
| Display Feedback: | Time, speed, distance, calories, pulse, incline, program |
Warranty:
| | |
| --- | --- |
| Frame and Motor: | Lifetime |
| Deck: | 3 Years |
| Parts: | 3 Years |
| Labour: | 1 Year |