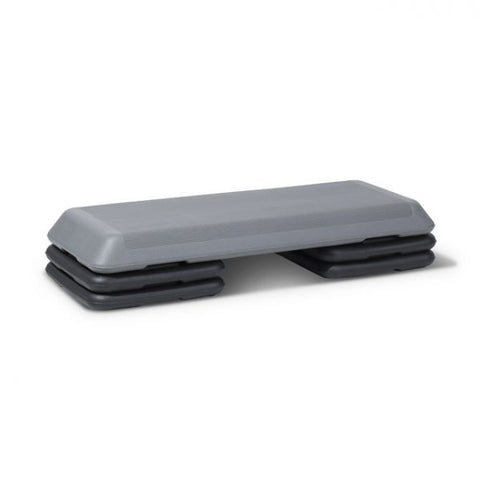 Xtreme Monkey
XM Standard Step 14" x 40"
Step
 into fitness! Along with making you a better athlete, aerobic stepping will also benefit your overall health. It is an intense cardiovascular workout that will make your heart and lungs work more efficiently. Stepping also improves cardiovascular health, muscular endurance, tones and strengthens legs and burns calories.  This sturdy step offers a secure, non-slip surface for your workout routine and makes an ideal choice for newcomers to step aerobics. It includes 2 sets of risers, which can be modified to increase and decrease workout difficulty.
Made in the USA - durable, made from recyclable High Density Polyethylene
Premium slip-proof, comfort cushion top - easy on hands, feet, back or other body contact points (does not contain latex)
Adjustable to 4, 6 and 8 inches in height - very secure, stable design. Large 14" X 40" top surface
Platform on floor without risers - weight capacity = 300 LBS. 500 LB capacity when platform is stacked on risers.
Non-marking feet for use on almost any type of floor including wood, tile & carpet.
Features
Base Dimensions: 40" L x 14" W x 4" H.
Each set of risers will raise the height by 2"
Colour: Black and Grey
Includes: