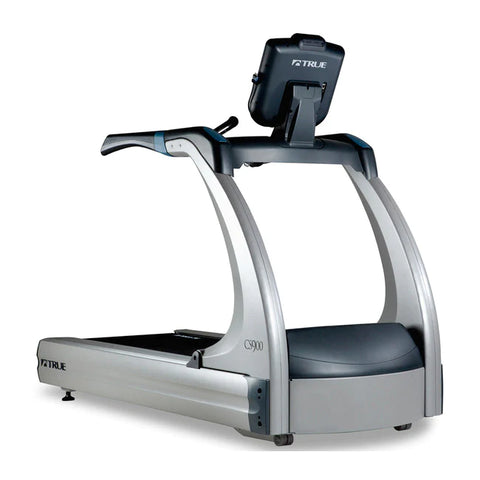 TRUE
True CS900 Treadmill
With the CS900 treadmill, you not only get high-quality craftsmanship and durability, you get over 34 years of history in the treadmill manufacturing industry. With TRUE you not only purchase equipment, you purchase the knowledge and experience that makes each treadmill one that will meet your gym facilities demands each day. Give your members what they want most a machine they can depend on to help them reach their goals. With intuitive and advanced technology available in a variety of consoles, we have something to meet every budget, and every users need.
UNCOMPROMISING QUALITY
The TRUE CS900 is built on a robotically welded steel frame that provides uncompromising stability even under the most rigorous pounding. Despite its brawny construction, the smooth sweeping hydroformed steel pedestals, brushed aluminum powder coat finish and matched aluminum straddle covers provide a sleek, contoured presentation that is a dramatic accent to any fitness environment.
POWERFUL DRIVE SYSTEM
Equipped with 5hp Max-Drive motor featuring an internal self-cooling system ensuring years of powerful and dependable operation.
TRUE IMPACT ABSORPTION
TRUEs patented Soft System offers the most orthopedically correct running surface available. The Soft System was developed to provide users with a controlled flexible deck to absorb the shock of impact while running or walking. The regular and controlled running surface is easier on your knees and ankles at impact, and then transitions to a stable push off. This is orthopedically superior to running on any other surface, providing users a low-impact running experience with little or no joint pain.
BUILT FOR THE LONG RUN
Tested for thousands of hours on TRUEs Treadbuster and backed accordingly.
Key Features and Benefits


Multiple console options to fit every users need.


iPod compatibility for charging and entertainment.


Optional decline range of -3% to 18%.


Wireless Heart Rate Monitoring compatible with Polar Heart Rate Monitors.


Optional Netpulse compatibility.


TRUE's Patented Soft System offering the most orthopedically correct running surface available.


Quick access to speed and incline adjustments on the hand grips.


63x 23 running surface is the largest in the industry.


5hp AC Max-Drive motor featuring an internal self-cooling system ensuring years of powerful and dependable operation.


Heart Rate Control
The CS900 is equipped with a digital contact heart rate monitoring system as well as a Polar wireless telemetry system to assist users in maintaining their optimum heart rate and maximizing workout results.
One touch HRC Cruise Control is also included, which allows the user to lock in on a specific target heart rate. Once the target is set, TRUE HRC Cruise Control will adjust speed and incline automatically throughout the duration of the workout to maintain the targeted heart rate (operates just like the Cruise Control in your car).