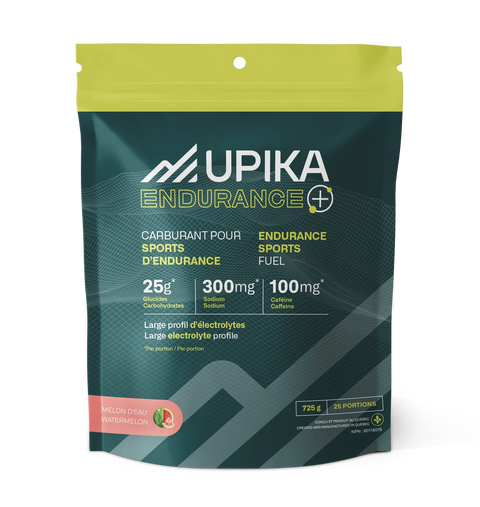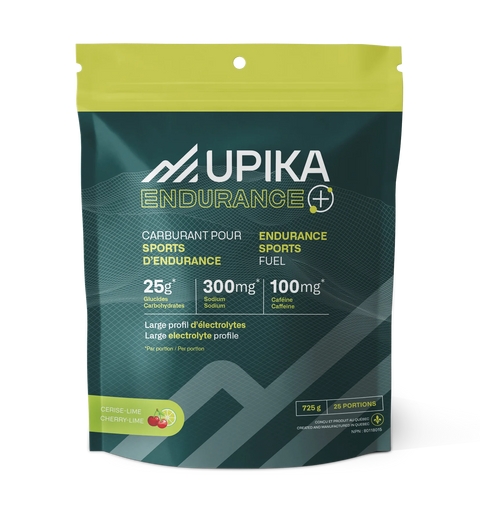 Upika
UPIKA Endurance+
The ultimate all-in-one to support your efforts, with an added caffeine boost for even more pronounced effect.
Focus and power
100mg of caffeine to increase your focus and maximize your physical abilities.

Constant energy
25g of high-quality carbohydrates for sustained energy.
Complete hydration
300mg of sodium for water retention and a broad electrolyte profile to replace those lost during exercise.
Easy to digest
16g of cyclic dextrin, a carbohydrate with fast gastric emptying that eliminates digestive discomforts.
Endurance bonus
1g of taurine and added vitamins B and C to improve muscle endurance.
Medicinal ingredients
Medicinal ingredients D-glucose (Glucose, Highly branched cyclic dextrin 16.2 g) - 13.5g D-Fructose (D-Fructose, D-Fructose) - 4g D-glucose (Dextrose, D-glucose monohydrate) - 5g 2-aminoethanesulfonic acid (Taurine, Taurine) - 1g Caffeine (Caffeine, Caffeine) - 100 mg Potassium(Potassium, Potassium citrate) - 57mg Magnesium(Magnesium, Magnesium malate) - 37.4mg Calcium(Calcium, Calcium citrate) - 65mg Vitamin C (Ascorbic acid, Ascorbic acid) - 150mg Vitamin B6 (Vitamin B6, Pyridoxal 5'-phosphate) - 5 mg
Nonmedicinal ingredients:
Himalayan pink salt (300 mg/serving), Natural & artificial flavor, Sucralose, Citric acid.