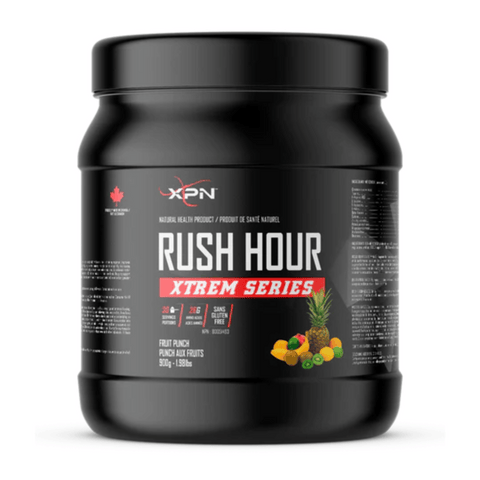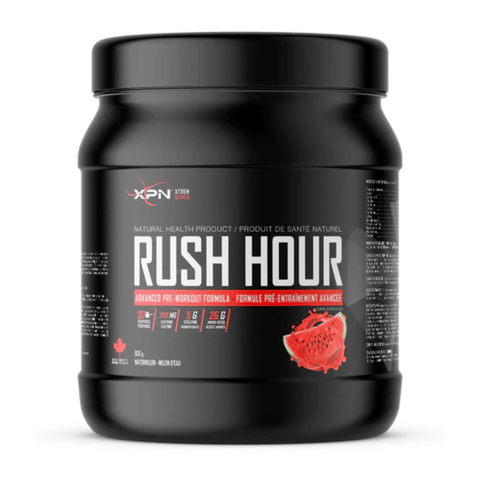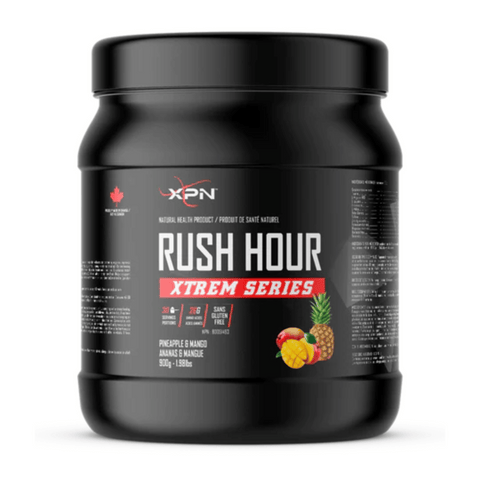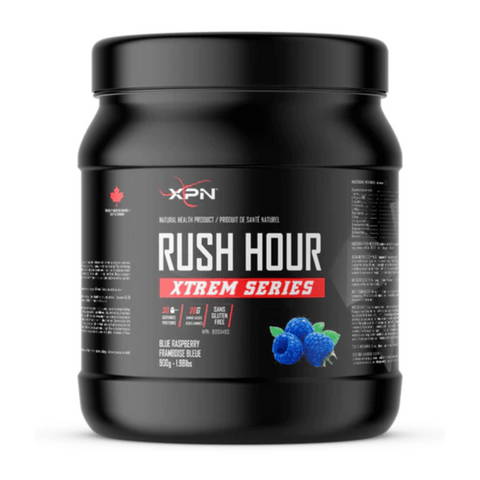 XPN
XPN Rush Hour 900g
OVERVIEW :
Pre-workout formula - with stimulants
Rush Hour outperforms all other pre-workout products on the market. No one else gives you as much for your money.
XPN is the only company that gives you 6 g of L-Arginine in one serving.
In addition, you get:
5 g of Creatine Monohydrate
3 g of Beta-Alanine
3 g Pure iBCAA (L-Leucine, L-Valine, L-Isoleucine)
2 g of Taurine
Rush Hour is the only pre-workout with caffeine to offer you as many amino acids, which limits the effects of catabolism (stress, high intensity training).
Rush Hour, for maximum contraction without compromise.
INGREDIENTS :
MEDICINAL INGREDIENTS (per 30 g serving):
Creatine monohydrate... 5000 mg
Taurine... 2000 mg
L-Arginine HCl... 6000 mg
L-Leucine... 1500 mg
L-Isoleucine... 750 mg
L-Valine... 750 mg
Beta-Alanine... 3000 mg
Caffeine... 200 mg
Zinc (gluconate)... 50 mg
Potassium (citrate)... 75 mg
Magnesium (citrate)... 75 mg
Maltodextrin... 6000 mg
Dextrose... 3000 mg
NON-MEDICINAL INGREDIENTS:
Citric Acid, Stevia Rebaudiana Leaf, Sucralose (75 mg), Artificial Flavor, FD&C Blue No.1, Silicone Dioxide.
RECOMMENDED USE : Increases [fat-free/body/muscle/lean] [mass/size] when used in conjunction with a resistance training regimen. Improves [strength/power/performance] in repetitive bouts of brief, highly-intense physical activity (e.g. sprints, jumping, resistance training) (by increasing [muscle/intramuscular] [creatine/phosphocreatine/energy] levels). Helps (temporarily) to relieve fatigue, to promote endurance, and to enhance motor performance. Source of branched chain amino acids (BCAAs) and L-Arginine (a non-essential amino acid) that are involved in protein synthesis. Helps to support cardiovascular function. Source of carbohydrates to support energy production. Helps to [maintain performance/promote endurance] in extended (greater than 60 min), high intensity exercise.
DURATION OF USE :If you suffer from a cardiovascular disease, consult your health care practitioner for use beyond 6 weeks. For occasional use only.
RECOMMENDED DOSE :Adults. Take 1 scoop daily. Mix product well in 1-2 cups of liquid (water, juice, etc.) immediately before consumption. Consume 45-90 minutes before exercising. Take separately from products containing caffeine (e.g. coffee, cola, etc.). Use for a minimum of 4 weeks.
WARNINGS :
Ensure to adequately hydrate before, during, and after exercise. Consult a health care practitioner prior to use if you are pregnant or breastfeeding, if you have a kidney disorder, if your cardiovascular condition worsens, if you have a renal/kidney disease or if you are following a low protein diet, if you have high blood pressure, glaucoma, and/or detrusor instability (overactive bladder syndrome), if you suffer from a cardiovascular disease and are attempting an increase in physical activity, if you are taking lithium, medication for cardiovascular diseases, erectile dysfunction, and/or blood thinners. Consumption with natural health products (e.g. bitter orange extract, synephrine, octopamine, ephedra) or other drugs (e.g. ephedrine) which increase blood pressure is not recommended. This product is not intended as a substitute for sleep. May result in weight gain. Caffeine has been shown to reduce blood flow to the heart muscle during exercise which might lead to cardiovascular complications such as chest pain, spasm and irregular heartbeat even in healthy individuals. If those symptoms occur discontinue use and consult a health care practitioner.
CONTRAINDICATIONS :Do not use if you have had a heart attack/myocardial infarction.
KNOWN ADVERSE REACTIONS :Some people may experience gastrointestinal discomfort (such as diarrhea). Hypersensitivity/allergy is known to occur, in which case, discontinue use.