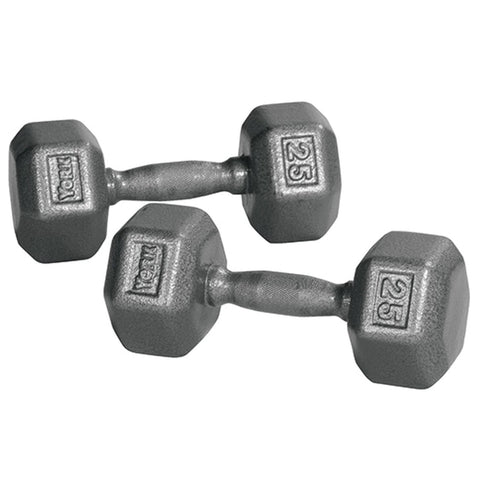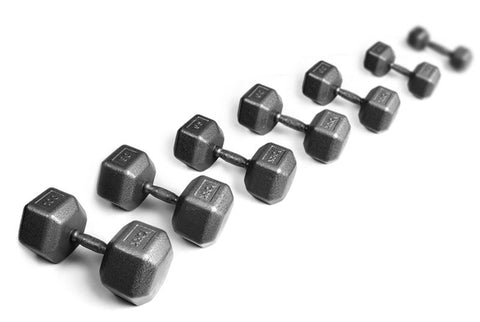 York
YORK Pro Hex Dumbbell
SOLD INDIVIDUALLY

, MAKE SURE TO ORDER BY PAIR 2-4-6-8-10, etc. 
York Barbell Contour Handle Commercial Pro-Hex Dumbbell Sets
If you're looking for a dependable yet economical set of hex dumbbells for your home, fitness studio or commercial gym, consider the Pro-Hex dumbbells by York Barbell. Unlike some residential quality hex dumbbells that simply attach the head and handle with glue, York Barbell manufactures their commercial quality Pro-Hex dumbbells using a fishtail shaped handle shaft that makes it impossible for the head and handle to ever separate. This heavy-duty hex dumbbell construction makes the Pro-Hex ideal for commercial settings where dumbbells can experience greater than normal levels of impact. And the 35mm thick handle shaft helps improve the strength of the entire structure while preventing handles from breaking or bending.
Features:
Handle composition: 3-20 lbs. = cast iron / 25-100 lbs. = solid steel
Handle thickness: 30mm (3-20 lbs.) and 35mm (25-100 lbs.)
Head composition: cast iron
Dumbbell head and handle construction: Steel handle fishtail design will not allow heads to separate from handle
Finish: Baked enamel finish
Hex heads are rounded off to make them more user friendly
Cast iron heads are compact and allow dumbbells to be stored on a vertical dumbbell rack, shelf rack or standard horizontal rack
Ergonomically correct handles are contoured in shape for a more comfortable grip while working out
Great for total body toning, strengthening and muscle building
Weight sizes are permanently cast into each dumbbell head
Applications:
Home gyms
Fitness studios
Corporate gyms
Commercial gyms
Schools
Performance training